The Defiance City Schools Foundation (DCSF) has been very fortunate to be able to provide mini-grants and scholarships for Defiance High School graduates. The Foundation conducts only one appeal annually and uses community donations and earnings from investments to provide support for these mini-grants and scholarships. Last year, more than $32,155 in mini-grants and scholarships were awarded.
This year's honorary campaign co-chairs are Coit and Karin Black. Coit works in medical sales for a division of Johnson & Johnson, while Karin is a family practice doctor at Mercy Defiance Clinic. The Blacks have three children, Drew, a second-grader at Defiance Elementary; Aubrey, who is in Kinderstart at Defiance; and 1-year-old, Will.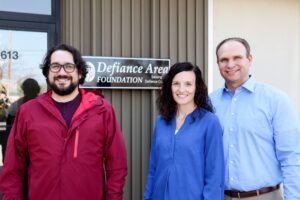 Karin and Coit Black: "Any chance to give back to youth is a special honor and privilege, especially with both of us being from the community and graduating from Defiance High School (both in 2002)," said Coit. "We feel this is a great way for us to pay it forward, knowing many before us did the same thing. We're excited to chair this campaign, and to support educational efforts at Defiance City Schools."
"We love not only the scholarship opportunities that are provided to youth by the foundation, but the mini-grants that also help the teachers. With COVID-19, I'm sure there have been some out-of-pocket expenses for the teachers, if not more spending of their own resources. We love that the foundation provides this help, especially when you consider that we both had parents working in the school system. It's really nice to give back in this way," said Karin. 
"I'm excited to help create awareness about the campaign, to be honest, I didn't know about it until Rob asked us to do this. We understand the struggle happening (with COVID) in 2020, but our goal and hope are to help raise $20,000 for the campaign, as the foundation has done in past years," said Coit.
DCSF president Rob Lawson is excited to be a part of this year's campaign. Lawson shared his mom, Karen, enjoyed seeing the mini-grants and scholarships make a positive impact when she was teaching at Defiance. He is looking forward to working with the Blacks on this year's campaign.
"I am super excited to have the Blacks involved this year, it's been my personal goal to help the next generation of local leadership get involved," said Lawson. "Many people of my generation (Lawson is a 1999 graduate of Defiance High School) know the Blacks, and this is an opportunity to not only reach out to people who have been contributing for years, but a new set of donors."
Please join us in making a gift to DCSF to enhance learning opportunities for our children and grandchildren.  Checks may be made payable to Defiance Area Foundation (memo: DCSF).    Thank you in advance for your support.