Community foundations are the fastest growing form of philanthropy and are often the first to support new and emerging needs. The Defiance Area Foundation provides a means for addressing community problems and opportunities by maintaining a broad grant program available to charitable organizations in the Defiance County area. Each of us can make a difference in creating a vibrant and healthy community.
The Defiance Area Foundation has been serving communities within Defiance County for the last 36 years. In these 36 years, the Defiance Area Foundation has been able to touch thousands of lives of those families residing within Defiance, Hicksville, Ney and Sherwood Ohio through many different funds for many different needs.
---
The Stroede Center – 2016 
Your grant has helped us to begin a new look, and service, to the greater Defiance area! Because of the generosity of the Defiance Area Foundation we have begun the renovations at The Stroede Center for the Arts, at 319 Wayne Avenue. In December, 2015, a group of volunteers started "demo-ing" the nearly 5,000 square foot basement of the Stroede Center for the Arts. Originally built in 1894, as the First Baptist Church, the building was inherited by the City of Defiance in 2007. Dick Stroede's vision of service to the greater Defiance area, enriched through cultural programs for the arts. With over 300 volunteer hours of work, we have hauled out more than 14 tons of debris! Here's a "sneak preview" of our progress.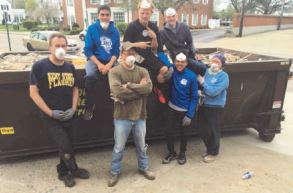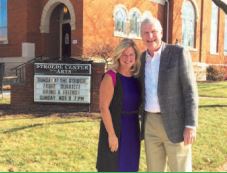 Phase 1 — a new 100-year guarantee, roofing job. The steel roofing looks like asphalt, but wears like iron. We have approximately two-thirds of the job done and are hoping to finish the rest this fall. Local Winegardener Roofing, is the contractor for the job.
Phase 2 — has been completed with local contractor, The Baker-Shindler Contracting Co. They have transformed the former dungeon of what was, at best, disgusting bathrooms with roots growing through the floor, into modern, light, bright and pleasant dressing rooms and restroom facilities. Beyond the contractual specifics, Doug Shindler was able to save Defiance Community Cultural Council (DCCC) thousands of dollars by having the State of Ohio, reapprove the previously submitted (2010), architectural drawings for $100. Doug also joined in on the volunteer days of lugging debris up the stairs and out the door! With your help we have been able to initiate a $62,000 roof job, a $54,000-bathroom renovation job and other additional improvements totaling nearly $10,000.
Phase 3 — is anticipated that the Community Meeting/Rehearsal Room and a Caterer's kitchen will be completed by mid-winter of this year, or spring of 2017.
Phase 4 — of our plan is for a new handicap accessible front entry to the Center from the Wayne street side at a cost of $45,000.
Phase 5 — of the plan is the renovation of the set design, construction and storage area, estimated at $10,000.
"The Defiance Community Cultural Council wishes to thank The Defiance Area Foundation for your belief in what we do for the community and how you support that effort". -Roger Fisher, Executive Director-DCCC